We have participated in the In Home Puppy Training, the Puppy Lifestyle classes and are currently enrolled in the Group Class. Our lab loves these classes. He's learning so much (and so am I). Obedience and socializing are key. Candace is fantastic!! They are full of helpful advice and tips! I'm absolutely thrilled we have such a great local resource.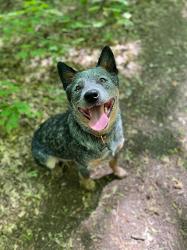 After just one private class with Candace I have noticed a HUGE difference in my pup's behaviour and our working relationship. She helped me learn several tips and tricks to keep my Australian Cattle Dog mentally stimulated. We will definitely be taking more classes with Candace in the future!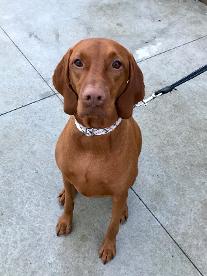 I contacted Candace when my family decided to adopt a Viszla puppy named Harley. She came with A LOT of energy and we were looking to find some effective ways to train her. Candace came to our home the first time to meet Harley and gave us some excellent tips on ways that we could train her in the puppy stage. As she grew, we brought her to the group classes where she continued to show us numerous different skills we could teach Harley.
In addition to all of the skills development she gave us, she also provided us with numerous community supports, such as Iron Horse boarding kennels (which we plan to use over the March break).
We are extremely happy with the training and support Candace gave both Harley and ourselves and would highly recommend her services to any one looking for some additional training with their dog.
Curtis Maidment & Stryker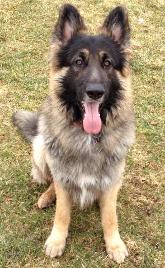 Candace's obedience classes have greatly improved my boy Stryker's confidence and self esteem. Stryker is a 5 year old male German Shepherd. He was attacked 3 times by 3 different dogs in a span of 1 week. This happened when he was around 2 years old, and I have been dealing with this ever since. We were walking our usual route in town when owners of other dogs were walking them off leash. The dogs would run up to him and attack for no reason. Ever since then he has been very insecure around other dogs and has become very aggressive. I couldn't walk down the street with him and have a dog walking on the other side of the street without him lashing out. It became very stressful and frustrating, I hated walking him. I also have a female Shepherd, it became difficult to walk them at the same time. I have him trained to run on the treadmill at home. For a long time Stryker would go on the treadmill and I would walk my female to avoid the aggression and embarrassment. I really didn't know what to do anymore. Since attending Candace's group classes, private classes and pack walks, he has become more confident in himself. I can now walk by other dogs on the sidewalk with little to no reactions. He has come a very long way, and I couldn't have done this without Candace's help and training. There were things about my dog that I didn't know, just small things. Things that Candace picked up on right away, and we worked on it. Stryker has some more work to do, and I know I can count on Candace to get him to go the rest of the way.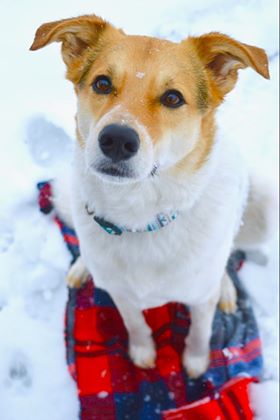 I have had a great experience with owner Candace of Helping Paws. My dog Lincoln had picked up some bad habits, poor recall being at the very top of the list. I called Candace and booked a one on one lesson. She was professional, punctual and patient. It was after the first training session I had with Candace that I decided I wanted to learn more and signed up for a group class. After the first lesson I already noticed a difference with my dog. The group class was exactly what my dog needed, both of us enjoyed every class, and I saw major improvements after a few short weeks. I can happily say now that after completing the group class and practicing at home my dogs recall is nearly perfect even with the distractions that come with living on a farm.
I highly recommend Candace and helping paws to anyone who has a young dog looking for the basics or a dog with behavioural problems, I have seen her work with both and am very impressed. Her prices are fair and she is always willing to answer any questions, and truly is a very talented trainer. I will continue to recommend Helping Paws to all my friends and family!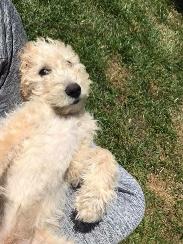 Tucker started with Candace at Helping Paws Professional Dog Training & Services shortly after we brought him home. At three and a half months old with four, half hour sessions with Candace personally, Tucker learnt to sit , stay, leave it and come rather quickly. We then decided that Tucker needed some further interaction with other dogs. We then joined the 5 week group session. With lots of distractions in class it added to Tucker's ability to maintain his sit, stay and feel more comfortable around other dogs. We have never had a dog and had lots of questions about training. Candace was more than helpful and had many tips and tricks to help us along the way. We hope to join a fall class and further Tucker's training. We would recommend Candace and her training services to anyone who is looking for a great trainer.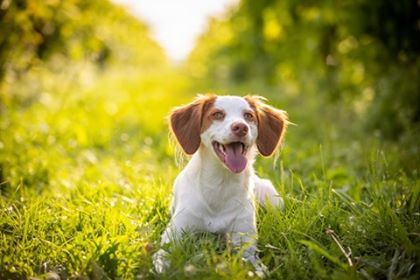 Candace of Helping Paws Professional Dog Training has been wonderful. My Husband and I just completed our round of group classes with our three month old Brittany Spaniel. Candace has been simply amazing to work with! She is incredibly knowledgeable, friendly and patient with both of us and our puppy Moose. Training commands, advice and corrections are all so easy to understand and give us the skills to practice at home outside of class. We both have enjoyed how hands on she has been with Moose and feel like she takes the time to engage with each and every dog during group classes. We have truly enjoyed our sessions and look forward to the next set of classes in April. Thank you Candace for helping us engage with and educate our pup!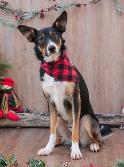 Candace is an absolutely fantastic trainer and individual. My border collie puppy, Echo, and I loved her classes and training techniques so much, that we took not one, but two rounds of her group classes. The group classes were not only a great opportunity to learn, but being able to build in a bit of time to play with the other dogs always made it that much better. Candace not only boosted Echo's confidence, but she boosted my confidence in being able to raise such a busy pup. Candace is very professional and patient, and always manages to make each training session fun and enjoyable. She's always happy to answer any questions you might have, even if they're not related to what you're learning in class. I plan on continuing to work with Candace in the future, through both group and private classes. I will definitely be recommending her to friends and family.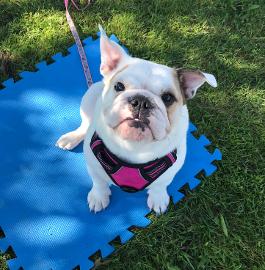 Candace is amazing. She has the patience of a saint - I come to every class with ++ questions and she never hesitates to answer fully. She takes the time to teach me how to teach my pup, and she is so motivating! She uses positive reinforcement only with the pups she trains and you can tell how much the pups love her. My Luna gets extra excited whenever she sees Candace!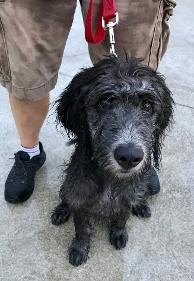 Love puppy classes with Candace. Our Tilly girl loves her and we are being well trained as new puppy parents. Appreciate the positive reinforcement approach.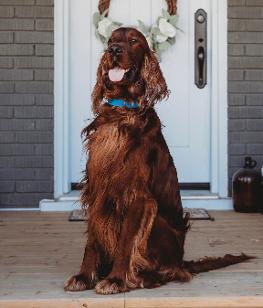 We have been working with Candace & Christine from Helping Paws consistently since Oakley was a puppy! We have taken multiple obedience classes and one-on-one sessions, as well as trick classes! Both are very knowledgeable and make training fun and very rewarding! They have watched Oakley grow not only in size, but into the well behaved dog that we get many compliments on, today. We have no one to thank other than Candace and Christine! They have been a massive part of ours and Oakley's lives! They will always come highly recommended by us and we will continue to use their services for Oakley and future dogs.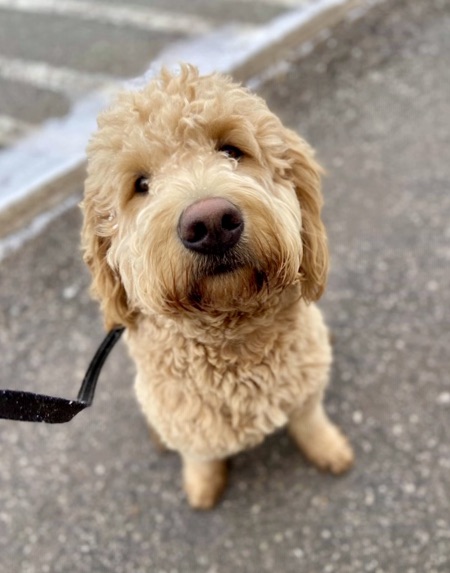 What a great experience we've had with Helping Paws!!! Candace was incredible- she stuck by us even in the hardest of times! Her in home sessions AND classes have helped our dog become an amazing part of our family. We highly recommend Helping Paws for anyone who needs a little extra support with your new friend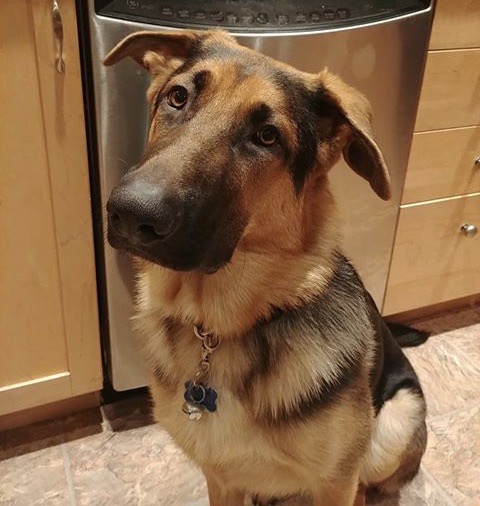 Candace is a really organized instructor who spends quality time with each dog in the class. The classes were fun informative and well-thought-out. She also helped with any personal puppy problems and sent personal emails of the classes to everyone for review and practice. I would highly recommend her training school. On the last day of classes Zulu really enjoyed the puppy party!
Candace was an AMAZING help with teaching my pup that getting into the car wasn't so bad after all!! She accomplished the impossible within the first 20 minutes of our private session and we were able to work on a few other things since we had so much time left over. I 100% will recommend Helping Paws to anyone in need of some dog training assistance. We will definitely be contacting her if we ever need help in the future!!!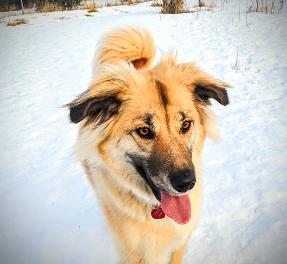 Absolutely amazing! Both Candace and Christine were great to work with. They are both very knowledgeable and patient, teaching both myself and my pup how to learn and grow together while having fun. I started with private classes working with Candace, that went so well I continued with her puppy class for training and socializing. My pup Mabel picked up tricks quickly, so I decided to sign up for the trick training classes with Christine. It was so much fun. Christine definitely has a bunch of tips up her sleeve to help your pup nail that trick perfectly while having a blast. I definitely recommend Helping Paws for any of your training needs.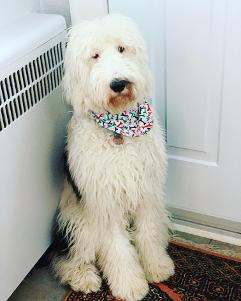 Doug our 1 year old sheepadoodle has done 2 sessions with Helping Paws Services. At the start of the second session he could not contain his excitement. He just wanted to play and say hi to everyone there. Each week we were given great tips and tools to use to get Doug to focus. We did the homework that was suggested and saw tremendous growth from our boy. By the last class he had learned so much. We can't wait until we can do the trick class!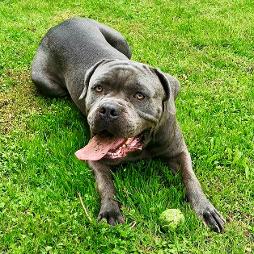 Candace is awesome!!
I have learned so much and Loki is smarter than I thought possible.
I came to realize, it's not about training the dog, its about training the owner to have control, earn respect and grow a bond with your K9 companion.
Thank you for showing me the way!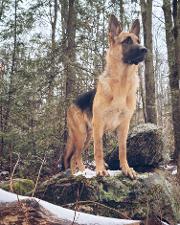 Candace has been a instrumental in training my beautiful big German Shepherd Moses. She has many strategies and can adjust according to what is and isn't working for your individual pup. I have greatly appreciated her insight and knowledge of dog training and dog psychology! Whether you're hoping to develop the perfect household companion or advance into competitive dog rally, Candace has the experience to help you! Learning new techniques through positive reinforcement training has been a lot of fun for both Moses and I. We look forward to every session!